Whether for you, your partner or your child, the Oswego Vision, Ltd. Optical Department provides the personalized consultation that ensures the proper fit, style and lens for attractive, vision-correcting glasses.
By creating the most precise fabrication of your prescription, our specialized onsite laboratory can cut lenses into your frames so you don't have to leave your glasses behind when you order new lenses. You'll also receive efficient assistance with small repairs including nose pads, adding or tightening screws, and realignment of frames.
Your Oswego Vision, Ltd. glasses will enhance your appearance as well. Choose from our vast selection of frames by leading designers such as Guess, Dior, Nine West, Gucci, Kate Spade, Tag Heuer and Banana Republic.
To help you achieve the style of frame that's right for you, our iPoint software will take a picture of you with each choice so you can see how you look with your new frame. The program can also demonstrate options such as polarization, anti-reflective treatments and thinner lens-material choices.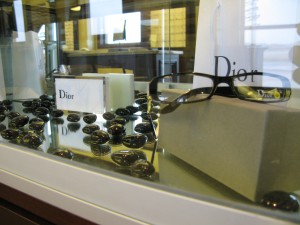 Proudly provided glasses and bifocals to Oswego, Aurora, Yorkville, Plainfield and Montgomery.