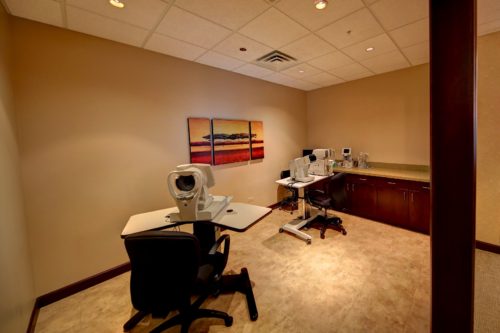 Personalized Eye Care Needs
From start to finish, you receive personalized eye care service from Oswego Vision, Ltd. It begins with detailed and attentive front-office staff who accommodate your need to make timely appointments. We also offer insurance consultation to help you make full use of your vision-care benefits. You can request customized assistance for a greater understanding of contact-lens wear, cleaning and schedules as well.
---
Comprehensive Eye Examination
Dr. Sony Thomas and Associates offer prolific experience in comprehensive eye examinations. Each exam starts with the most advanced vision-screening tools to complement traditional techniques. This allows the doctors to diagnose and treat all forms of vision disorders and eye disease.
Oswego Vision, Ltd. will also record your eye care history and diagnostic tests in the profession's most secure electrical medical/health records.
---
Glaucoma Testing and Diagnosis
Glaucoma is often called the "sneak thief" of vision because of its painless nature. Early diagnosis is the key to preventing blindness from glaucoma.
To diagnose glaucoma much earlier and identify glaucoma- related vision changes, Oswego Vision, Ltd. uses its own non-invasive optic-nerve analyzer, a Zeiss Cirrus OCT, as well as traditional visual-field and eye-pressure measurements.
---
Vision Correction Evaluation
Dr. Thomas and Associates offers specialized diagnosis and consultation for conditions requiring laser-vision correction. Oswego Vision, LTD. is associated with some of the county's most prominent vision-correction surgeons as well.Oswego Vision, Ltd. also uses current corneal-mapping instruments to identify patients who would benefit most from vision-correction procedures such as LASIK and PRK.
---
Treatment and Management of Eye Diseases
Dr. Thomas and Associates both provide diagnosis and treatment of acute and chronic eye disease. They attend yearly continuing-education classes to remain current with the latest medications and techniques for treating all forms of eye conditions.
---
Cataract Evaluation
Cataracts are the number-one vision problem among senior adults. If you suffer from a cataract, Dr. Thomas and Associates will monitor its advancement and advise you when the time is right to seek a surgical solution. Oswego Vision, Ltd. has relationships with the area's top cataract surgeons. We will also provide you with follow-up care in our office.
---
Preschool/Kindergarten Examinations
The State of Illinois now requires all children either entering kindergarten or registering as new students in a school district to have a current eye examination. Oswego Vision, Ltd. is well known for ensuring that children receive the best possible care starting with their first eye examination.
---
Emergency Services
Oswego Vision, Ltd. is available for immediate emergency eye care service during normal business hours. If you should need after-hour emergency medical attention, simply call (630) 554-8002 and follow the instructions. One of our doctors will contact you as soon as possible.